J/Boats Southwest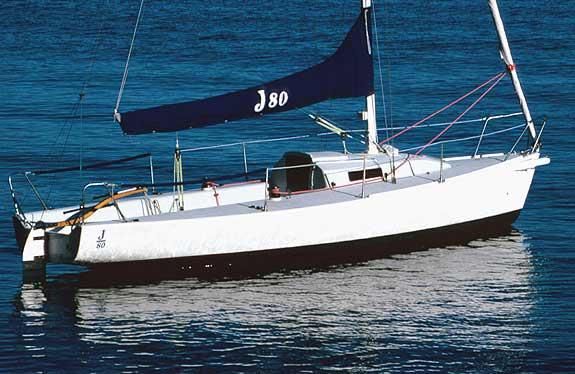 To expand your sailing horizons with a modern sportboat in open waters outside protected harbors and lakes, there's only one choice: J/80. Sailing World magazine rated J/80 as easier to handle, less intimidating, safer and better suited for sailing offshore than other modern sportboats tested.Numbers highlight the reason: The 1440 lb. lead keel with bulb on the J/80 weighs nearly the same as the leading competitor's entire boat. No question. The most important standard when it comes to a forgiving design, family sailing fun and sailing in open waters is stability. Now these assessments have become official.
Sail Area

I : 31.42 ft
J : 9.33 ft
P : 30.00 ft
E : 12.33 ft
Working Sail Area : 338.00 sq ft
Spars and Standing Rigging
Sparcraft Mast and boom in anodized light alloy.
Custom, carbon fiber bowsprit.
Harken unit 00 AL roller furling on head stay.
Two pairs of spreaders swept aft 20 degrees.
Stainless steel wire standing rigging with turnbuckle adjusters.
Backstay with adjustment tackle led to either side of the cockpit.
Reef pennants and mainsail clew outhaul (6:1) led inside boom.
Retractable, clearcoat carbon bowsprit, controlled from cockpit.
Mainsheet and ball bearing blocks.
Boomvang line with blocks.
Two jib sheets.
One Dyneema main halyard (no shackle).
One Dyneema jib halyard (no shackle).
One spinnaker halyard with snap shackle.
Two spinnaker sheets with ball bearing blocks ratchet.
One spinnaker tack line.
Additional Description
Removable, synthetic teak and holly cabin sole.
Molded settee berths with access to storage below.
Large forward V-berth platform with two access panels above mast step, and instrument thruhull area with inspection port.
Large and removable molded step permitting an outboard engine and cooler to be stored aft.
Crane lifting bar integral to keel bolt system.
Interior reading light.
4 Breaker electrical panel
Battery box with straps
Additional Description
Construction
J/Europe constructed hull and deck of GRP balsa sandwich, additional reinforcing is by way of unidirectional and bidirectional laminate.
The resin vinylester and ISO NPG gelcoat of the hull are guaranteed for 5 years against the occurrence of osmosis. The bulkheads absorb the loads of the shrouds and mast compression.
The mast step loads are spread through an aluminum frame fastened to the main bulkhead.
The keel is fabricated from lead and antimony. It is faired with an epoxy finish. The keel is secured by way of stainless steel bolts to an integral hull sump
The hull is reinforced by various molded stringers.
Reinforced polyester rudder on transom with stainless steel fitting.
Low transom suitable for direct mounting of a 3 or 4 hp outboard.
Bolts, screws and fitting are all made of stainless steel, marine grade anodized.
Additional Description
Large modern cockpit with molded foot braces on centerline.
Stainless steel forestay attachment plate.
Stainless steel pulpit single lifeline.
?U? bolt on the foredeck.
Stainless steel chain plates for cap shrouds, lower, shrouds and backstay.
Opening hatch (420 x 420 mm) mounted on cabin trunk forward of mast.
Two clear anodized jib T tracks with cars.
Swivel mounted, boomvang (12:1) jamming cleats, on each side of the coach roof.
Mainsheet traveler with coaming mounted (3:1) control line, cleats.
Swivel mounted mainsheet (5:1) jamming cleat and ratchet block on cockpit sole.
Jamming cleats and feed blocks for backstay adjustment (4:1) led forward in cockpit to port and starboard.
Internal spinnaker bowsprit launching line aft through fairleads inside the cabin to exit the aft face of the cabin trunk to a cam cleat.
Bullseye fairleads to lead roller furler control line (port with cam cleat) and tack line (stbd) aft to cockpit side mounted clutch.
Two halyard storage bags mounted in cockpit.
One winch handle pocket mounted in cockpit
Laminated wood tiller, varnished, tiller extension.
Spinnaker sheet blocks at aft and forward end of the cockpit.
Two stern pulpits of stainless steel single lifelines.
One fixed cabin window on each side of coach roof.
GRP main sliding hatch with Plexiglas one piece offshore drop board.
One manual Bilge pump operated from cockpit.
One winch handle.
Non slip finish to all horizontal deck surfaces in white.
Molded Toe-rail forward.
Bow and stern running lights